A year ago this week she was at Glastonbury, oscillating between devastating ballads of loss and enquiries as to which of the audience had "shit themselves". Now, Adele rounds off her 25 tour with four nights at Wembley hosting 98,000 people a night – a stadium record for a music event – coming to commune in the emotional Big Four: love, anger, sorrow, joy.
Having told the world earlier in the day on Instagram: "I don't know if I'll ever tour again, and so I want my last time to be at home," feelings are running higher still, and the rosé has been poured in readiness.
Lips are wobbled further by Grenfell. Adele has spent time there meeting residents and firefighters, and her first appearance of the night is on screen appealing for donations. She dedicates Make You Feel My Love to a man called Abraham who was on the ground helping residents, and tells the crowd: "If you don't have social conscience, you can grow one." It's arresting, but more so is London-pride anthem Hometown Glory (arguably chucked away too early in the set) that generates a hot adrenal jolt of grief as the tower's burned husk looms onto screen.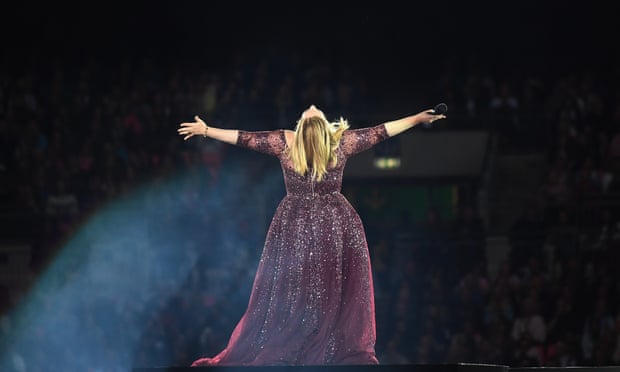 Adele had taken to Instagram the day before to say this may be her last tour. Photograph: Samir Hussein/Getty Images for September Management
Adele knows, though, that most of her songs can't be transmuted into moments of civic healing; nor are many of them even midtempo – "have a little dance because you ain't got much of a chance for the rest of the set", she says ahead of Rumour Has It. No, most are piano-centric and, as she says, "about dickheads".
Some of her lovelorn lamentations (Don't You Remember, Take It All) waft along, but her A-grade material creates a gigantic vent for the injustice of lost love. Take Rolling in the Deep's "we could have had it all", rising into clarity, or the middle eight of Set Fire to the Rain, which is animated by the kind of bewilderment that sends the brokenhearted pacing pointlessly around the streets at night. All of this is delivered with masterful – and creative – vocal control. Wembley's cavernous acoustic suits her too, adding to the sense of emotional chaos with vocals lightly echoing back on her.
But it's her rambling streams of banter between songs that turn this into a show, skewering the grace of a filmed underwater sequence by saying she was channelling Kate Winslet and the Little Mermaid, comparing popcorn bags to sex dolls, and of course not so much peppering as salting the entire event with a stream of F-bombs; her very first words on stage are: "Fuck me, I've never been so fucking scared in my entire life." Her acknowledgement of Grenfell's physical and psychological wounds was worthy, but crucially she also applied a balm, and with laughter as much as anything.
"I might never see you again at a live show, but I'll remember this for the rest of my life," she says at one point; and it would be a shame if this is the last stage that this instinctively charismatic performer ever sees.
[Via: The Guardian | Image Credits]