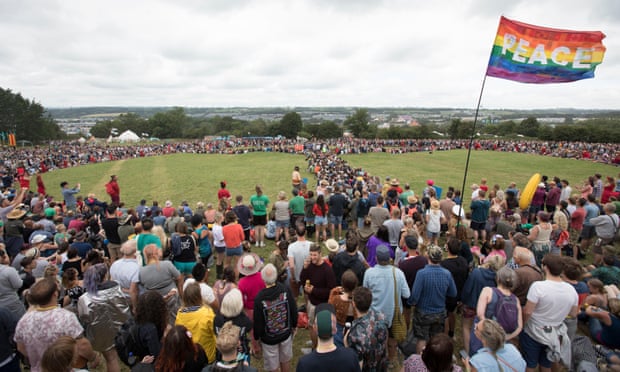 Making the peace sign. Photograph: Alicia Canter for the Guardian
About 15,000 people gathered at Glastonbury's monumental stone circle on Thursday to set a new record for making the world's biggest human peace sign.
The event was one of the first to display a spirit of unity in the face of recent terrorist attacks in Manchester and London, as the festival officially opens on Friday.
Organised by the team who run Glastonbury's green fields as a "message of peace to the world", the attempt broke the previous record when 5,814 people performed a similar stunt at Ithaca festival in New York in 2008. Among those taking part were Emily Eavis and William Hawk, a Native American from the Standing Rock reservation.
Cat Warren, 22, from Bristol, was held aloft on the shoulders of her friends – all part of a cheerleading team – to cheers from the crowd.
"There are worries that things like the attacks in Manchester and London are just going to divide people, and make people more hateful towards minorities," said Warren. "So just coming together and celebrating with people from all ages, races and religions, it feels so lovely. It's almost like a protest to anyone who is being hateful and shows we're not afraid. We could do with a bit more of this outside of Glastonbury."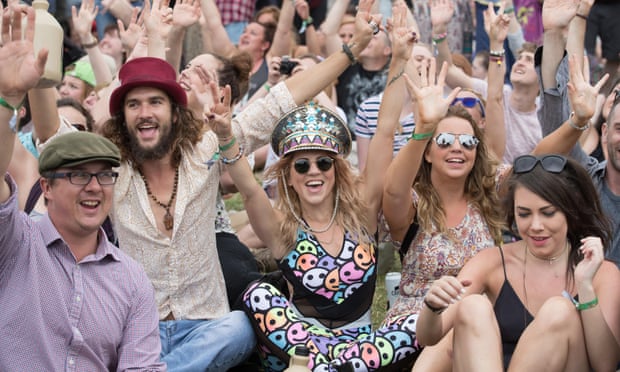 Some of the people forming the peace sign at Glastonbury. Photograph: Matt Cardy/Getty Images
Warren admitted she had been worried to come to Glastonbury out of fear it could be a target but said: "Then I just thought, you know what, I'm not going to miss out and not have my fun just because of scaremongering. That's exactly what they want."
She was echoed by Martin Goodman, 51, who stood with his wife Lisa, 50, who had driven down from Manchester. "It's all about togetherness, really," he said. "In this climate it feels important to come together and do something positive. The country's had a hard time and we'll do anything to try and get it back on its feet. We're from Manchester so we've felt that really close to home but no way that's going to stop me coming."
Eavis was among those in the human peace sign and the shambolic but spirited event was watched over by Hawk, who led prayers for the victims of the recent tragedies and encouraged the crowd to put their hands on each other's shoulders to create "a human connection".
"We don't need this in our world," he told the crowd. "Peace and love comes about simply by giving peace and love."
[Via: The Guardian | Image Credits]